Published date

Date:

News category

Competition news
Spelthorne Cup - Acro
Another weekend, another National Competition for our Acrobatic Squads! We took a bigger team out this weekend as the Competition saw the elite FIG grades. The best of the best travel to this competition with 33 clubs ranging from Scotland to Cornwall and a total of over 600 Gymnasts - 24 Gymnasts competed for SALTO at the Spelthorne Cup, held a little closer to home in Sunbury - on - Thames. 
Saturday started off with our Grade Four Trio, Izabella, Sophia and Erin - increasing their score from last weekend they finished in 20th place. Our Grade 5 Women's pair were up next, having only just missed out on a medal last week Luci and Violet again increased their score but ended in a respectable 5th place. Sienna, Isabelle and Evie were up next with their two routines, balance and dynamic - pulling off strong performances the girls took home another Bronze medal to match last weekend. This trio along with our FIG partnerships will be focusing now on preparing for The English Championships held in April. 
To end Saturday saw the first of their two qualifications routines for our Age Group Gymnasts. Both competing in the 11-16 category they were among the best Gymnasts in the Uk. Two great routines ended day one with a close 5th for Lillian, Ayla and Jessica and a 4th for Sophia and Ayisha! 
Sunday morning started with our National Grade 3 women's pair Aimee and Violet, again in a massive
 category the pair finished in 19th place beating their score from last weekend. 
Back to the FIG girls for their second routine, competing spotless performances which resulted in
 them going through to the finals. Lillian, Ayla and Jess going through in fourth place and Sophia and Ayisha in third! 
Image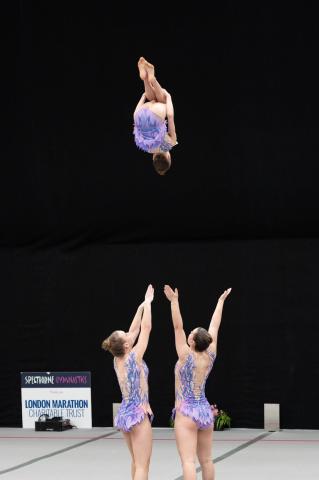 We then had our Youth partnerships, after all the 
success from last week the pressure was on. Our women's pairs all fought hard increasing their scores from last week ending in 15th for Chloe and Kaily
n and 5th for Inaaya and Elodie. Ben and Chloe our mixed pair up next, again topping their performance off from last weekend held their own and put themselves on the podium in silver medal. Last but not least the Youth Trio who won by over a mark last weekend, Megan, Emiley and Alice had us all gripped to our seats adding over half a mark to last weekends sco
re and winning in a huge group of 27 other trios! 
The FIG girls ended the weekend in the Finals, nail biting, both
 teams did their best and showed that SALTO
 is a force to be reckoned with. Lillian, Ayla and Jess finished in a close 5th and our pair Sophia and Ayisha brought home SALTOS first FIG at this competition, a brilliant bronze!