Published date

Date:

News category

Competition news
King Edmund Cup - Acro
This weekend 19 of our SALTO Acrobats, 2 Coaches and a Judge travelled to Yate International Gymnastics to compete in the annual King Edmund Cup. Clubs from all around the Country travel to this prestigious event! 
Saturday, we saw our IDP2 Women's Group compete two routines, a tough category performing advanced skills. After a strong Balance routine Sienna, Isabelle and Evie were sitting in a very close second place. Not much between the top three, after their Dynamic routine they finished in a brilliant Bronze position. A strong start to their 2023 Competitions. 
Saturday afternoon we had a Grade 5 Women's Pair and a Grade 4 Women's Group. Two great routines for Luci and Violet placing them in a close fourth and the Trio Sophia, Izabella and Erin finishing in 15th place. 
Sunday we saw our Grade 3 Women's Pair Aimee and Violet compete, a lovely routine finishing in 20th. 
Lastly, saw the biggest categories of the Competition, Youth. 
Salto had four partnerships competing in this event. Starting with our Youth Women's
Image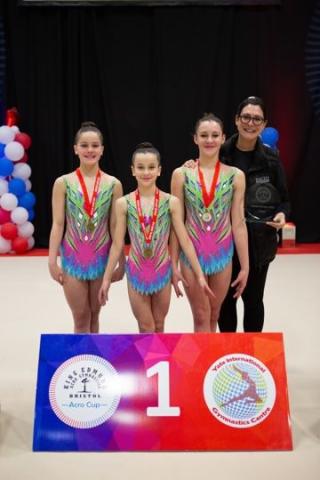 Pairs, both pulling out strong performances, Chloe and Kailyn finished overall in 9th position and Inaaya and Elodie taking home a bronze! 
Next up Ben and Chloe, our fabulous mixed pair duo, pulling out all the stops landing them in silver but only by 0.15!! 
Last but not least our Youth Womens Group Megan, Emiley and Alice, in a massive group of 18 partnerships! Showcasing a technically brilliant performance with 100% energy into their artistry not only did they win their group by a whole mark they had the highest Youth Score across all four catogores, resulting in them and their Coach Kimberly winning the Coaches Award. 
The same 19 Acrobats will be travelling again this weekend to compete in another National event The Spelthorne Cup! We wish them the best of luck.